Now Available: 2020 Edhec Survey
EDHEC-Risk's 13th European ETF and Smart Beta Survey
Thursday 01 October 2020
Corporate
This year the EDHEC European ETF, Smart Beta and Factor Investing Survey shows that investors are increasingly considering ESG integration in their portfolios – whether ETF, smart beta or factor investing.
As a pioneer in sustainable investing, Amundi is delighted to see growing interest from investors in ESG solutions. It is also encouraging to see that use of ETFs to implement these strategies is continues to rise with 55% of respondents using ESG ETFs.
Investors are keen to see further sustainable investment product development in with 50% of respondents looking ESG and low-carbon ETF innovation.
With respondents reporting a range of objectives for their ESG allocations, from a positive impact on society (65%), to reducing long-term risk (58%) and improving performance (25%) it is clear that there is no one-size-fits-all in sustainable investing.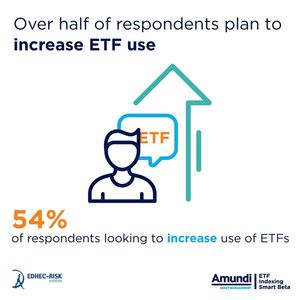 Further findings
The survey also showed that despite the maturity of the ETF industry respondents (54%) are still looking to increase their use of ETFs in their portfolios. And their key priority in selecting an ETF is the price (91%) and the quality of replication (86%).
The EDHEC European ETF, Smart Beta and Factor Investing Survey is conducted each year as part of the Amundi research chair at EDHEC-Risk Institute on "ETF, Indexing and Smart Beta Investment Strategies".
Explore our infographics with the key findings of the survey.

To learn more: consult the executive summary or download the entire survey on EDHEC-RISK Institute website .
---
Documents