Monthly ETF Allocation Ideas - July & August 2020
Wednesday 08 July 2020
Cross Asset Investment Strategy
The bumpy road to a "day after" renaissance
Overall, the data is not pretty but the general idea is that economic freeze is almost over and that it's time to look forward.
We can't ignore any "day after" directions, but we must also exercise caution: don't move from depression to euphoria, but from uncertainty to navigating a careful path forward.
At portfolio level, maintain a balanced risk exposure, play the rotation toward value/cyclical stocks and stay positive in the credit space which is benefitting from fiscal and monetary measures.
Monthly convictions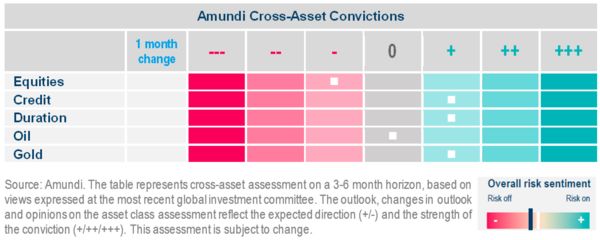 Fixed Income: Positive on credit, constructive on US duration & breakeven inflation
Ultra-accommodative CBs and strong fiscal support continue to gradually normalise market conditions.
However, there is a risk of an increase in credit defaults when CBs support fades. Therefore, investors should ensure that they don't go too low in the credit quality spectrum.
On duration, we refrain from making any strong calls and keep our stance close to neutral, with a constructive bias on the US.
We are also constructive on US breakeven inflation on a medium to long term perspective, in a context of monetary expansion.
US Government Bonds

On a GFI perspective, Fed buying, especially in the short to medium term segments, safe haven demand and the global search for yield enable us to maintain a preference for US Treasuries. In addition, UST yields still have room to fall if the Fed signals an openness to negative rates. We are more cautious on longer maturities, expecting a steepening of the long part of the curve.

AMUNDI US TREASURY 1-3 UCITS ETF – USD
0.14% OGC*

Breakeven Inflation US

We see value in being long US inflation given the unprecedented fiscal and monetary policy responses and the improving growth outlook in the US. After four decades of low inflation across most economies and strong disinflationary forces, we may enter into a new regime of higher inflation. The inflation premium is currently too low to protect against that risk.

AMUNDI INDEX BREAKEVEN INFLATION USD 10Y UCITS ETF DR
0.16% OGC*
Equity: Cautious on equities, playing the rotation towards value & cyclicals
Current valuations are the result of a liquidity-driven rally. In H2 2020, a check on earnings growth has to be considered and the sustainability of business models/balance sheets is likely to remain a key element of discrimination.
We suggest combining a high level of liquidity with some exposure to value and cyclical assets that offer high performance potential in the event that a favorable scenario plays out.
European Equities

Two factors have revived international interest for European Equities: the Recovery Fund plan, should it be confirmed, and the cyclical/value catch up. This revival has further to go.
The adoption of responsible investing, due to proven resilience of ESG funds during the crisis, is also a trend that will remain at the forefront in the coming weeks.

AMUNDI MSCI EUROPE VALUE FACTOR UCITS ETF
0.23% OGC*

AMUNDI MSCI EUROPE ESG LEADERS SELECT UCITS ETF DR
0.15% OGC*

AMUNDI INDEX MSCI EUROPE SRI UCITS ETF DR
0.15% OGC*

Japanese Equities

Japan has experienced ups and downs in the previous cycle. Being one of the most cyclical markets in the world, it is benefiting from the current cyclical catch-up. Companies have low leverage, and the yen – inversely correlated to Japan's relative performance – usually weakens when risk perception recedes.

AMUNDI PRIME JAPAN UCITS ETF DR
0.05% OGC*
Commodity: CBs easing and economic uncertainty still positive for gold
Gold is undoubtedly the commodity most likely to gain from the current uncertain and fragile economic environment. It has benefited from the dramatic change in central banks' monetary policies during the pandemic crisis.
Métaux précieux : l'or
The massive liquidity injection into the financial system by central banks resulted in
higher hedging demand and gold is perceived as the last resort in case of a CB failure.
Interest rates will remain low and the dollar is likely to depreciate marginally. All
variables underpinning the appreciation of gold will remain in place in the coming months.
AMUNDI PHYSICAL GOLD ETC
0.15% OGC*
*Ongoing charges - annual, all taxes included. For Amundi ETF funds, the ongoing charges correspond to the Total Expense Ratio. The ongoing charges represent the charges taken from the fund over a year. When the fund has not closed its accounts for the first time, the ongoing charges are estimated. It compares the annual total management and operating costs (all taxes included) charged to a fund against the value of that fund's assets. Transaction cost and commissions may occur when trading ETFs.
**The TER is a measure that compares the annual total management and operating costs (all taxes included) charged to a ETC against the value of that ETC's assets. Transaction cost and commissions may occur when trading ETCs.
Disclaimers
This material is solely for the attention of professional, and eligible counterparties, as defined in Directive MIF 2014/65/UE of the European Parliament acting solely and exclusively on their own account, or Institutionals, and acting exclusively on their own account. In Switzerland, it is solely for the attention of qualified investors within the meaning of Article 10 paragraph 3 a), b), c) and d) of the Federal Act on Collective Investment Scheme of June 23, 2006. This document is not intended for citizens or residents of the United States of America or to any «U.S. Person», as this term is defined in SEC Regulation S under the U.S. Securities Act of 1933. The US person definition is indicated in the legal mentions section on amundi.com or amundietf.com and in the prospectus of the Sub-Funds of the luxembourg Sicav Amundi Index Solutions, mentioned in this document.
Promotional and non-contractual information, which should not be regarded as an investment advice or an investment recommendation, a solicitation of an investment, an offer or a purchase.
Since this certain information contained in this document may be analysed as an investment recommendation, it is explicitly stated that this document has not been prepared by reference to the regulatory requirements that seek to promote independent financial analysis. Accordingly, Amundi, in its capacity as investment service provider, remains free to carry out transactions in respect of the financial instruments referred to in this document. Amundi accepts no liability, whether direct or indirect, that may result from using any information contained in this document or from any decision taken the basis of the information contained in this document.
This material contains a selection of strategies and investment scenarios that reflect only the opinion of the Amundi Research and Strategy team, and the latest Global Investment views document which is available on amundietf.com or research-center.amundi.com. Amundi does not accept any liability, responsibility or duty of care, whatsoever, with respect to the information or its any use. Amundi does not give any guarantee (whether express or implied), warranty, undertaking or representation as to the accuracy, validity, relevance, exhaustiveness, timeliness, completeness and/or reliability of the information. The opinions expressed reflect the current judgement of Amundi investment personnel and may be subject to change without notice. Amundi shall be under no obligation to update the information. It is based on sources considered as reliable and may change without prior notice. It is inevitably partial, provided based on market data stated at a particular moment.
Some of the funds or sub-funds of the Amundi Index Solutions SICAV (the ≪Funds≫) described in this document may not be authorized for distribution in your country. Before any subscriptions, the potential investor must read the offering documents of the Funds approved by the Autorité des Marchés Financiers for French Funds or by the Commission de Surveillance du Secteur Financier of Luxembourg for the sub-funds of the Luxembourg Sicav Amundi Index Solutions, including the KIID, available on amundi.com or amundietf.com or upon request from the headquarters of the Sicav or free of charge from CACEIS Bank, 1-3 place Valhubert 75013 Paris – France, French Paying Agent of the Sicav.
Investment in a Fund carries a substantial degree of risk (i.e. risks are detailed in the DICI and prospectus). Transaction cost and commissions may occur when trading ETFs.The policy regarding portfolio transparency and information on the funds' assets are available on amundietf.com.
AMUNDI PHYSICAL GOLD ETC (the "ETC") is a series of debt securities governed by Irish Law and issued by Amundi Physical Metals plc, a dedicated Irish vehicle (the "Issuer"). The Base Prospectus, and supplement to the Base Prospectus, of the ETC has been approved by the Central Bank of Ireland (the "Central Bank"), as competent authority under the Prospectus Directive. Pursuant to the Directive Prospective Regulation, the ETC is described in a Key Information Document (KID), final terms and Base Prospectus (hereafter the Legal Documentation). The ETC KID must be made available to potential subscribers prior to subscription. The Legal Documentation can be obtained from Amundi on request. The distribution of this document and the offering or sale of the ETC Securities in certain jurisdictions may be restricted by law. For a description of certain restrictions on the distribution of this document, please refer to the Base Prospectus. The investors are exposed to the creditworthiness of the Issuer.
Information reputed exact as of July 2020. Amundi ETF designates the ETF business of Amundi Asset Management. Amundi Asset Management, French "Société par Actions Simplifiée"- SAS with capital of 1 086 262 605 euros - Portfolio Management Company approved by the AMF under number GP 04000036 - Registered office: 90, boulevard Pasteur - 75015 Paris – France - 437 574 452 RCS Paris.
Reproduction prohibited without the written consent of the Management Company. Pursuant to provisions of Act n°78-17 dated 6 January 1978, as amended, referred to as Data Protection and Privacy Act, you have the right to rectify, complete or delete personal data relating to you. Please contact us at Amundi ETF – 90 boulevard Pasteur 75015 Paris – France, or info@amundietf.com
Amundi ETF funds and ETC are neither sponsored, approved nor sold by the index providers. The index providers do not make any declaration as to the suitability of any investment. A full description of the indices is available from the providers.
Switzerland: Amundi ETF Funds available for distribution to all investors:This AMUNDI ETF Fund has been authorized for distribution to non-qualified investors in or from Switzerland by the Swiss Financial Market Supervisory Authority ("FINMA"). Subscriptions in the ETF Fund will only be accepted on the Fund's the Key Investor Information Document ("KIID") and the prospectus, or the fund's regulation as well as the annual and semi-annual financial reports that may be obtained free of charge from the Swiss Representative. Swiss Representative: CACEIS (Switzerland) SA - Route de Signy 35 - CH1260 Nyon.Paying Agent in Switzerland: CACEIS Bank, Paris, Nyon branch / Switzerland - Route de Signy 35 – CH- 1260 Nyon. Amundi ETF Funds aimed at qualified investors only: This Amundi ETF Fund (collective investment schemes) authorized by the AMF, has not been approved by FINMA.This Amundi ETF Fund is available in Switzerland for distribution exclusively to Qualified Investors, as defined in the Col lective Investment Schemes Act of 23 June 2006, as amended ("CISA") and its implementing ordinance. The KIID, prospectus, fund's regulation and annual and/or semi-annual financial reports relating to this Amundi ETF Fund are available free of charge from the Swiss Representative or from authorised distributors to Qualified Investors. Swiss Representative: CACEIS (Switzerland) SA - route de Signy 35 – CH 1260 Nyon. Paying Agent in Switzerland: CACEIS Bank, Paris, Nyon branch / Switzerland - Route de Signy 35 – CH- 1260 Nyon.
Sweden: The funds have been passported into Sweden pursuant to the Swedish Securities Funds Act (as amended) (Sw. lag (2004:46) om värdepappersfonder), implementing the UCITS IV Directive and may accordingly be distributed to Swedish investors. The Key Investor Information Document ("KIID") (in Swedish) and the prospectuses for the funds, as well as the annual and semi-annual reports are also available from the Swedish paying agent free of charge. The name and details of the Swedish paying agent are: SKANDINAVISKA ENSKILDA BANKEN AB (publ) through its entity Transaction Banking, SEB Merchant Banking, with its principal offices at Kungsträdgårdsgatan 8, SE-106 40 Stockholm, Sweden.
United Kingdom: For Professional Clients only. This document is being issued inside the United Kingdom by Amundi (UK) Limited, 41 Lothbury, London EC2R 7HF, which is authorised and regulated by the Financial Conduct Authority (the "FCA") and entered on the FCA Financial Services Register under number 114503. This may be checked at https://register.fca.org.uk/ and further information of its authorisation is available on request. Past performance is not a guarantee or indication of future results. The funds and their relevant sub-funds (the "Funds") under their respective fund range that are referred to in this document are recognised collective investment schemes for the purposes of Section 264 of the Financial Services and Markets Act 2000. This document is only directed at persons who are Professional Clients (as defined in the FCA's Handbook of Rules and Guidance), must not be distributed to the public and must not be relied or acted upon by any other persons for any purposes whatsoever. Potential investors in the UK should be aware that none of the protections afforded by the UK regulatory system will apply to an investment in the Funds and that compensation will not be available under the UK Financial Services Compensation Scheme.