Amundi ETF Trend Report Overview - Q2 2019
Thursday 11 July 2019
Expertise, Video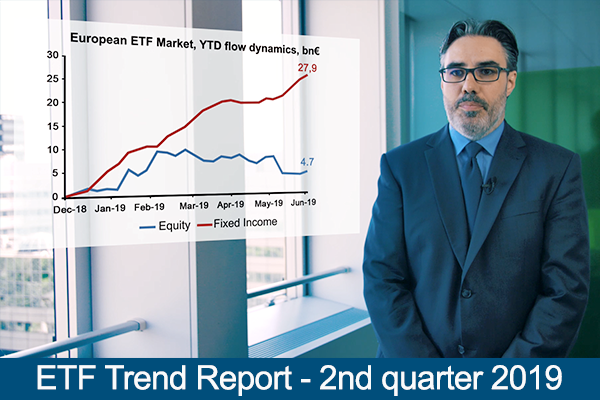 Net new assets for the European ETF market remain positive, despite a sharp slowdown in the second quarter. Equity flows, which had already begun to dry up towards the end of the first quarter, have turned negative: -4 billion euros over the last 3 months. Conversely, fixed income flows are still strong: +11 billion euros over the quarter, bringing the total to nearly 29 billion euros since the beginning of the year.
Within the equity space Europe has suffered the most, with redemptions of 6 billion euros. Global stocks, which led the way in the first quarter, also turned red, with 1 billion euros of redemptions. Only the United States are doing well by attracting 1.5 billion over the quarter. On sector and factor exposures the bias remains firmly defensive: investors favor health and low-volatility stocks, to the detriment of financials and small caps.
On the fixed income side corporate debt leads the way with 7 billion euros over the last quarter. The prolonged accommodative stance of the European and US central banks has weighed on rates and compelled investors looking for yield to turn to credit. If we look into government debt we can observe that the attractiveness of emerging countries has faded away, as the exposure suffered slightly negative flows over the last 3 months. Just like for equities only the United States have the favors of the market, which invested 1.5 billion euros in US treasury bills.
One of the most important trends observed since the beginning of the year, for both stocks and bonds, is the success of SRI exposures. More than 2 billion euros were allocated in the quarter, bringing the total to 4.5 billion over the year. Flows to SRI ETFs now account for more than 10% of total ETF flows, compared with less than 4% 2 years ago, which represents a major acceleration.