Amundi Prime ETF range reaches €1bn AUM
Friday 07 February 2020
Press Release, Product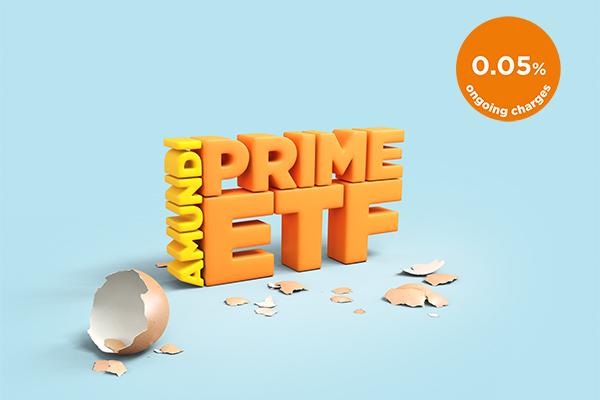 Following its launch as Europe's lowest cost1 core ETF range in March last year, the Amundi Prime ETF range has already surpassed €1bn AUM2. Driven by this strong client demand, Amundi announces the expansion of the range with the addition of ten accumulative share classes, one for each existing exposure. The new share classes are offered at the same extremely low cost ongoing charges of 0.05%3.
The Amundi Prime ETF range comprises five equity and five fixed income exposures that aim to provide investors with the key building-blocks of a diversified portfolio. All the ETFs in the range use physical replication and track indices developed by Solactive.The ten accumulative share classes were listed on Xetra on January 28th and are registered in the main European countries.
The success of Amundi Prime ETF range demonstrates its effectiveness in answering investors' need for low-cost, simple and transparent investment tools. As interest in ETFs among retail investors, distributors and online platforms continues to rise, we are committed to developing our product offering to match the diversity of investor demand.
Fannie Wurtz, Head of Amundi ETF, Indexing and Smart Beta
More about Amundi Prime ETF Read the Press Release
1 Source: Amundi: Comparison based on the ongoing charges (OGC) of equivalent "core" ETF ranges available in Europe. Data from Bloomberg as of 31/01/2020. Important: some individual Funds may not be cheaper.
2 Source: Amundi ETF as at 15/01/2020.
3 Ongoing charges: Annual, all taxes included. For Amundi ETF funds, the ongoing charges correspond to the Total Expense Ratio. The ongoing charges represent the charges taken from the fund over a year. When the fund has not closed its accounts for the first time, the ongoing charges are estimated. It compares the annual total management and operating costs (all taxes included) charged to a fund against the value of that fund's assets. Transaction cost and commissions may occur when trading ETFs.