Amundi ETF Trend Report Overview - Q3 2019
Thursday 17 October 2019
Expertise, Vidéo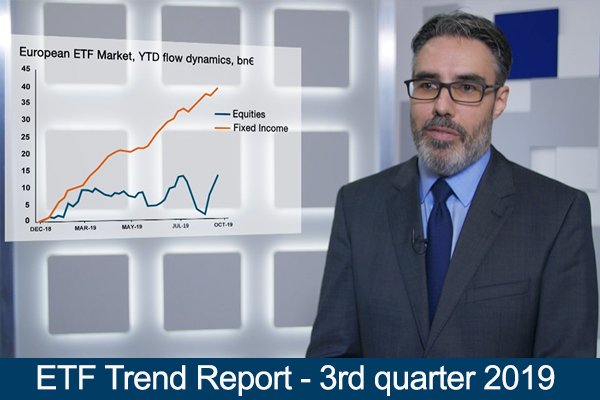 Net new assets allocated to European ETFs accelerated over the quarter, benefiting from the investors' newfound interest for equities. However, most of the flows are still concentrated on fixed income, which saw nearly 15 billion euros of subscriptions over the last 3 months.
On the equity side, Europe saw an end to the stream of outflows it had been suffering for more than a year, posting a slightly positive balance in the quarter. But the outflow still remains significant over the year at -11 billion euros. US and global equities are still favored by the market and continue on their positive trend, while emerging countries have experienced a trend reversal: - 3 billion euros over the quarter, compared to cumulated inflows of 5 billion in the first half.
The interest for Smart Beta ETFs has faded away recently, even if the defensive factors still retain some popularity. On the other hand, the trend regarding socially responsible investment is very much alive: it gathered another 2.7 billion euros over the period, bringing the year to date total to more than 6 billion.
Lastly, we can note the good performance of thematic ETFs, which offers a transverse exposure to investment themes such as artificial intelligence for example.
Regarding bonds, there is still a clear preference for corporate debt, which benefited from more than 6 billion euros of subscriptions over the quarter. In fact, following the recent actions of the European and American central banks, the yield of government debt has significantly decreased, forcing investors to take more risk. For example, in the euro zone, where interest rates are the lowest, credit represents more than 70% of the total fixed income allocation.
In this asset class also there is an increased demand for ETFs including an SRI dimension, with 1.2 billion euros allocated to this type of product since June.
In the commodity space gold remains the center of attention. In a context of increased volatility and negative returns, it fully plays its full role as a safe haven, offering protection thanks to its low correlation to risky assets. The total allocation to products tracking the price of gold now exceeds 5 billion euros over the last 12 months.